Sliced Apple
Opening:
Saturday April 4, 2015, 17:00 - 20:00
Duration:
April 4 - May 1, 2015
(Closed: April 7 - 23 for Easter)
Artist Talk with American brunch:
April 25, 2015 @13:00-15:00
RSVP required for brunch : info@fokianou247.gr
Thanks to the lyrics of a famous song, "making it" in New York City is widely considered a pinnacle achievement. The pressure to succeed in New York is very high, yet artists have been drawn to the challenge of New York for most of a century. Higher stakes and competition for attention in New York have lead to the production of cutting edge and even shocking new work. One might imagine that such high stakes would be inimical to creativity, yet New York is still at the center of the art world.
During my time in New York, artists really did live and work in lofts in Soho and Tribeca; many of them really did want to paint like deKooning. Since then there has been the inevitable gentrification of neighborhoods and the emergence of new areas where artists move to survive, not to mention an evolution in art theory and practice. The city remains a stimulating multicultural environment that also offers artists a chance to see seminal work at galleries and museums.
How does the experience of New York affect different artists? What do artists come away with after living in New York? This show gathers a group of artists with ties to both Greece and New York, and asks them to examine what influence New York had on their art.
Participating Artists:
John BICKNELL | Jane GROVER | Mark HADJIPATERAS | Shanna INGRAM
Pelagia KYRIAZI | Eleni MYLONAS | Philip TSIARAS | George ZYMARAKIS
Mary Cox
Curator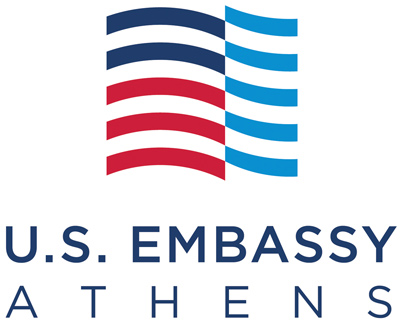 Sliced Apple is made possible with the generous support of the U.S. Embassy in Greece.
John Bicknell (www.johnbicknell.net) works in painting, photography, video and film. He has exhibited extensively, and taught widely. He has worked in collaboration with other artists and film makers, including Eleni Dori producing the painting series 'Cadavre exquis' 2003-10 and as an actor in the Maria Douza film 'The tree and the swing' 2013. He has been the recipient of the Henry Moore Foundation Fellowship, Boise Traveling Scholarship, John Moores Painting Prize, Greater London Arts Award and the South Bank Prize, London.
The New York painters of the fifties and sixties, Pollock, Rothko, De Kooning, Jasper Johns and Andy Warhol were the bridge from the early modernists to contemporary painting. The Velvet Underground, Bob Dylan, Truman Capote, Martin Scorsese, and Paul Auster spoke of the urban experience that I could understand.
My father used to spend a month a year in New York, and brought his own stories of New York in the fifties and sixties. He first took my brothers, my mother and me to New York when I was fourteen.
Whenever I have been to New York I feel that I belong as a foreigner, that you can be foreign, and all you need is an open mind and language, whatever language. I feel the breadth and mix of people, the vicinities that change from block to block, the beauty of the space between vast buildings, the romance of the bridges.
In New York there is an ever present possibility to create new culture, the dynamic and mystery of multicultural urban experience.
Jane Grover (www.facebook.com/pages/Jane-Grover-Fine-Artist) was born in England and moved to the US in 1980 after graduating from Leeds University with a degree in History of Art. She worked in theater, designing sets in regional theaters all over the US until finally spending over 10 years in NYC working on Broadway, opera, and movie sets. She also taught Scenic Arts at Yale University. In 2002 she moved to Taos, New Mexico to concentrate on painting. There, she showed her work regularly and won prizes in local competitions. She is a recent transplant to Athens, making it her home in 2012.
I worked as a Scenic Artist (along with many other aspiring artists). The hours were long, but when on standby for a shooting crew, I used the waiting-around time to sketch, and "Brooklyn Bridge at night" is one of those. I took advantage of NY's night classes, art museums and galleries to inspire me and my ambition developed at this time. The disaster of 9/11 is actually what galvanised me to leave my job and NYC and move to another art center in Taos NM.
Mark Hadjipateras (www.markhadjipateras.com) was born in London and studied at the Hammersmith School of Art and at the St. Martins School of Art in London. He lived and worked in New York City from 1982 to 2002. His work includes paintings, photography, sculpture, site-specific installations in galleries, as well as public installations and interventions. He has had 25 solo exhibitions and participated in more than 100 group shows in Greece, Europe, Japan, and the US. His works are in several public and private collections including the Metropolitan Museum of Art. In 2000, the Metropolitan Transit Authority commissioned Hadjipateras to create a permanent installation for the 28th Street station of the Broadway line. The station received the Municipal Arts Society Award for Best Public Work in 2003.
Living and working in N.Y. for 20 years undoubtedly helped me mature as an artist and develop a visual language. Seeing exhibitions in museums, galleries and alternative spaces as well as dance, performances and theater, showcasing some of the best work being made in the world, informs you, raises your standards and makes you work much harder. It makes you aim for a high degree of professionalism in the execution and presentation of your work and that was aided further by meeting and associating with artists whose work, work ethic and character you respect (my age, but also younger and older artists).
In the late 80's and through the 90's I was influenced by minimalism (Carl Andre, Joel Shapiro, Robert Mangold), by American modernists (Arthur Dove, Stuart Davies, Marsden Hartley), by Installation Artists (Eva Hesse, Robert Morris, Robert Smithson, Michael Heizer and Barry Le Va). Also by Abstract Organic – Biomorphic Artists (Louise Bourgeois, Eva Hesse) and Artists utilizing the Found object and Ready-mades (Duchamp, Joseph Cornell, H. C. Westerman, Louise Nevelson). Finally by sculptors David Smith, Martin Puryear, Allan McCollum, to mention just a few.
Shanna Ingram was born in Holland, and studied Art and Art History at Boston University and Art Education at Columbia University, Teachers College. In addition to Greece, Shanna has exhibited her paintings in Boston, New York City, Amsterdam, and Florence. She has had solo and retrospective shows in Amsterdam, Florence, Athens, Nafplion, and Rhodes. Her paintings are in the collections of the Vorres Museum, Rhodes Contemporary Art Gallery, The Nederlandse Centrale Bank, and ELPIDA Hospital.
Living and working in New York City has influenced me as an artist on many levels. The attraction to Columbia University, Teachers College was two female alumni, the painters Agnes Martin and Georgia O'Keefe. However, the total break from the traditional appealed to me in a huge way — the complete overhaul of style, meaning and content. Jackson Pollock's physical manner of abstract painting; the ideas of Willem de Kooning; the riveting colors and dynamics of Joan Mitchell paintings; the artistic cooperation of painter Larry Rivers with poet Frank O'Hara; and the music of Manos Hatzidakis, Mojo, Jazz, and Bob Dylan have all inspired me to paint large and bold. I strongly believe that the expression of a painting, especially if abstract, needs to be influenced by what is happening around an artist. The artist in a personal way puts it in order and makes sense of it.
Pelagia Kyriazi (www.pelagiakyriazi.com), born in Athens and a graduate of ASKT, first went to New York on a Fulbright grant in 1993. She has been involved in drawing, painting, printmaking (at the School of Visual Arts) photography (with Peter Campus at NYU), digital and video work. Solo shows in NY include The New York Public Library 96th St., the Tenri Cultural Institute and, in Athens, the American College of Greece and the National Bank Cultural Foundation-MIET. Her work also has been selected for exhibitions at the International Print Center in New York.
What you wanted was that New York experience that would turn things around in your mind, that would inseminate what you already had in mind towards new directions, that would push the limits of your thought in a way that's totally devoid of demureness. I also had a slice of the Big Apple. We all do. All of us there have a slice, and we are part of something that fills us with Expectations.
I remember the first time I saw at the Fashion Institute of Technology – perhaps in 1995? and then at the Brooklyn Museum the first complete exhibition with digital prints – by well known artists. They had something that evoked the imagination of painting, a procedure with other media which made me feel an awakening. New York gave me the means and the freedom to explore anew ideas already pursued and the most overt autobiographical themes.
The work I have in the show – a work of printmaking that eventually becomes a digital image – is entitled 'Submission' and was inspired by a stained glass I saw at the Metropolitan Museum. I worked on it much later with the end in mind to imitate its material, the transparency of glass which allows light to go through the image.
Eleni Mylonas (www.elenimylonasart.com) was born in Greece and went to New to study journalism at Columbia University, where she earned a Master's in 1967. She later studied photography at the Polytechnic of Central London. After traveling extensively, she produced series of large scale photographs, "Journey through Ellis Island" of which three prints are now part of the permanent installation there. Mylonas soon moved from pure photography to sculpture, to geometric abstraction, to video and mixed media. Her work has been widely exhibited in Europe and the US and is in many public and private collections. She has taught at Parson's School of Design.
New York has informed not only my art but my life in its entirety. When I first got here in 1966 with a Fulbright Grant as a scholarship student at the Graduate School of Journalism of Columbia University, I thought I had grown a pair if wings. Looking back, indeed, I had. New York allows, nay, demands of every individual to be themselves, at their best. It is a global city that embraces anyone who wants to take up the challenge of this freedom. I am grateful to NY for adopting me and giving me the opportunity to make my home and studio in this great city. Without it I really cannot imagine what kind of person or artist I would be today.
Philip Tsiaras (www.philiptsiaras.com) is an international artist of Greek origin who lives and works in New York City. Since 1974 he has had more than 75 one-person exhibitions in many countries. Tsiaras works in a great range of media–painting, photography, glass, ceramic, and bronze. He has exhibited in the Venice Biennale three times and produced a ten foot bronze sculpture on the Grand Canal. He also has been the recipient of many national prizes and his works can be found in many corporate, private and museum collections, including the Metropolitan Museum of Art. Fifteen books and catalogues are attributed to his work.
How can New York City NOT inform the work of an artist who has lived there? The City itself is a living, breathing, infinite artwork. As a young artist, New York City is an intimidating, overwhelming place. Just the sheer internationality of NYC, its rhythmic speed and imposing architecture, the outrageous number of galleries, some 4000, eclipses anything you could ever imagine. At the same time you are and your peers are compelled by the very energy of the City itself to respond, compete, to excel and most importantly to survive. Survival mode is perhaps the greatest catalyst to ones intrinsic creativity. New York City extracts a "pound of flesh" for every single personal success.
George Zymarakis was born in Chios in 1936, and moved to New York in 1956. He studied at the National Academy of Design and at the Art Students League in New York City. He was Art Director at many major magazines, including Parade magazine, and founded an advertising business, ZYM Advertising, Inc. His first solo show was at Chelsea Gallery in 1969. On returning to Athens in 1981, he began painting full-time and from 1989 published the well-known Gallery Guide. He has participated in many group and solo shows in Athens and New York
I was in NY since 1956, so I saw from close-up all the movements and artists from the Ashcan School to Abstract Expressionism, Action Painting to Pop, Minimalism to New Photo-Realism. I associated with Richard Estes, Alex Katz, Barnett Newman and Elsworth Kelly. From all of these styles I synthesized my idiom. When they asked Balthus for a bio he wrote: "Balthus is an artist we know nothing about. Look at the pictures" – Ditto!
Sliced Apple
Εγκαίνια:
Σάββατο 4 Απριλίου 2015, 17:00 - 20:00
Διάρκεια:
4 Απριλίου - 1 Μαΐου, 2015
(Κλειστά: 7 - 23 Απριλίου γιά Πάσχα)
Ομιλία / Παρουσίαση με American brunch :
25 Απριλίου, 2015 @13:00-15:00
RSVP γιά το brunch : info@fokianou247.gr
Οι στίχοι ενός διάσημου τραγουδιού, έγιναν η αφορμή να θεωρείται από πολλούς ότι η επιτυχία στη Νέα Υόρκη είναι κορυφαίο κατόρθωμα. Η ανάγκη να πετύχει κανείς στη Νέα Υόρκη είναι μεγάλη, ωστόσο η πρόκληση της πόλης προσελκύει τους καλλιτέχνες εδώ και σχεδόν έναν αιώνα. Τα μεγαλύτερα ρίσκα και ο ανταγωνισμός για να ξεχωρίσει κάποιος στη Νέα Υόρκη οδήγησαν στην παραγωγή πρωτοποριακού έργου που μπορεί ακόμη και να συγκλονίσει. Ίσως να σκεφτεί κανείς ότι αυτά τα μεγάλα ρίσκα μπορεί να έβλαπταν τη δημιουργικότητα, όμως η Νέα Υόρκη εξακολουθεί να είναι το κέντρο του κόσμου της τέχνης.
Κατά την διαμονή μου στη Νέα Υόρκη, υπήρχαν πραγματικά καλλιτέχνες που ζούσαν και εργάζονταν σε βιομηχανικούς χώρους, γνωστούς και ως lofts, στο Σόχο και στην Τριμπέκα. Πολλοί από αυτούς ήθελαν να ζωγραφίζουν σαν τον ντε Κούνινγκ. Από τότε, υπήρξε μια αναπόφευκτη αναβάθμιση στις γειτονιές, η ανάδυση νέων περιοχών, στις οποίες μετακόμισαν οι καλλιτέχνες για να επιβιώσουν και φυσικά μια εξέλιξη στη θεωρία και την πρακτική της τέχνης. Η πόλη παραμένει ένα ενθαρρυντικό πολυπολιτισμικό περιβάλλον το οποίο προσφέρει επίσης στους καλλιτέχνες την ευκαιρία να δουν σημαντικά έργα σε γκαλερί και μουσεία.
Πώς επηρεάζει τους διάφορους καλλιτέχνες η εμπειρία της Νέας Υόρκης; Τι αποκομίζουν οι καλλιτέχνες που έζησαν στη Νέα Υόρκη; Η έκθεση συγκεντρώνει μίαν ομάδα καλλιτεχνών που συνδέονται με την Ελλάδα και τη Νέα Υόρκη και τους ζητά να εξετάσουν την επιρροή που είχε η Νέα Υόρκη στο έργο τους.
Συμμετέχοντες Kαλλιτέχνες:
John BICKNELL | Jane GROVER | Mark HADJIPATERAS | Shanna INGRAM
Pelagia KYRIAZI | Eleni MYLONAS | Philip TSIARAS | George ZYMARAKIS
Mary Cox
Επιμελήτρια έκθεσης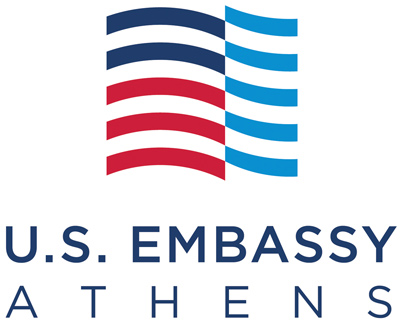 Η έκθεση Sliced Apple πραγματοποιείται με την ευγενική χορηγία της Αμερικανικής Πρεσβείας στην Ελλάδα.
Photos are from the opening night...